New Resume
Complete the New Resume page and tell us about the job you'd like to find. This information will help us better match you to prospective jobs. After you have completed, at minimum, the required fields, select Create Resume. The steps that follow depend on whether you have uploaded a resume or are using the resume wizard to create a resume from scratch.
To view details about the questions asked, review the table below.
New Resume
Field
Description
Resume Title
(Text) Enter a title for the resume.

This is the title that displays to employers and general public in the Resume Search. Each of your resumes must have a unique title. It should be relevant to the type of work you are seeking and advertise your skills as a job seeker.

Occupation
(Text) Enter the title of the job you want, such as "Fast Food Cook", "Administrative Assistant", etc.

A drop-down list may display as you type to help you provide a more specific job title. You may select a suggestion from the drop-down list or continue typing. A more specific occupation results in better job matches.

Education and Experience

How many years and/or months of relevant work experience do you have?

(Digits/Arrows) Enter the total number of years and months of your work experience that is relevant to the work you are seeking.

The months must be fewer than twelve. If you have nothing to enter in either or both fields, enter zero.
Education level
(Drop-Down) Select the highest level of education completed:

Some High School or less
High School Diploma or Equivalent
Vocational Certificate or Credential
Some College
Associate's Degree
Bachelor's Degree
Master's Degree
PhD
MD, OD or Related
DDS, DMD or Related
JD
Other Professional Degree

Location Information

Are you willing to move to another location for work?
(Radio) Select Yes or No.
Where would you like to find employment?
(Text) Enter the geographic area (City, State or ZIP code) that you are willing to work in.

This location is for job-matching purposes only. Your resume will display to employers that conduct resume searches for your designated area and that are within the one-way commuting distance you set.
What is the maximum distance (in miles) you are willing to commute to work one-way?
(Digits/Arrows) Enter a number indicating the distance you are willing to commute for work.
Are you willing to travel as a requirement of the job?
(Radio) Select Yes or No.

This does not refer to your willingness to commute to work from your home every day.

Wage and Shift Information

What is your desired salary type?
(Radio) Select the desired salary type:
What is your minimum desired salary?
(Text) Enter the number value of your desired salary, omitting commas (e.g., 30000 for annual; 12.50 for hourly, 0.75 for per mile).

The maximum allowable amounts are 1000000 for annual, 100.00 for hourly and 1000000 for Other. Select Market Wage Information to be redirected to CareerOneStop for local and national salary information for your desired job.


Are you seeking full-time or part-time work?
(Radio) Select your desired type of work:

No Preference
Full Time
Part Time

What shift do you prefer to work?
(Radio) Select your preferred shift:

No Preference
Day
Evening
Night
Rotating
Split

Are you willing to accept temporary work?
(Radio) Select Yes or No.
Do you have a valid driver's license?
(Radio) Select Yes or No.

Email

Do you want job matches for this resume emailed to you?
(Radio) Select Yes or No.

Resume Upload

Select

Select File to Upload

.
(Button) Choose a file from your computer to upload.

For more information on this, see Uploading a Resume. If you choose to upload a resume, the file must be a .pdf, .doc, or .docx file, no larger than 10 MB.
After completing the New Resume page, you are asked to select an Objective Statement or a Summary Statement. The occupation you selected on the previous page determines the options that display.
The Resume Title and the Objective Statement or the Summary of Qualifications display in the Resume Search. This is also the content that displays at the top of your resume. You will have the option to edit the text on the

Review and Post

page.
Objective Statement
An Objective Statement is based upon the type of work you are seeking. It states what kind of career you are seeking and which skills and experiences you have that make you ideal for that career. A resume objective is usually short, just one or two sentences. JobLink provides sample objective statements to choose from. You may select one and edit it later, or if none of these seem suitable for you, you can skip this step. Brackets surround editable sample text to indicate that you should update the statement to match your objective. You can edit the objective statement or write your own on the Review and Post page.
Summary Statement
A Summary Statement is a statement at the top of your resume that describes your qualifications for the job. It is a summary of all of the talents, tools and technologies, and work experience described in your resume. Summarizing these qualifications in a few bullets allows the employer to easily view the skills and experience you bring to the position. We recommend selecting up to five. Brackets surround editable sample text. You can edit the summary later, write your own on the Review and Post page, or choose to use an objective statement instead.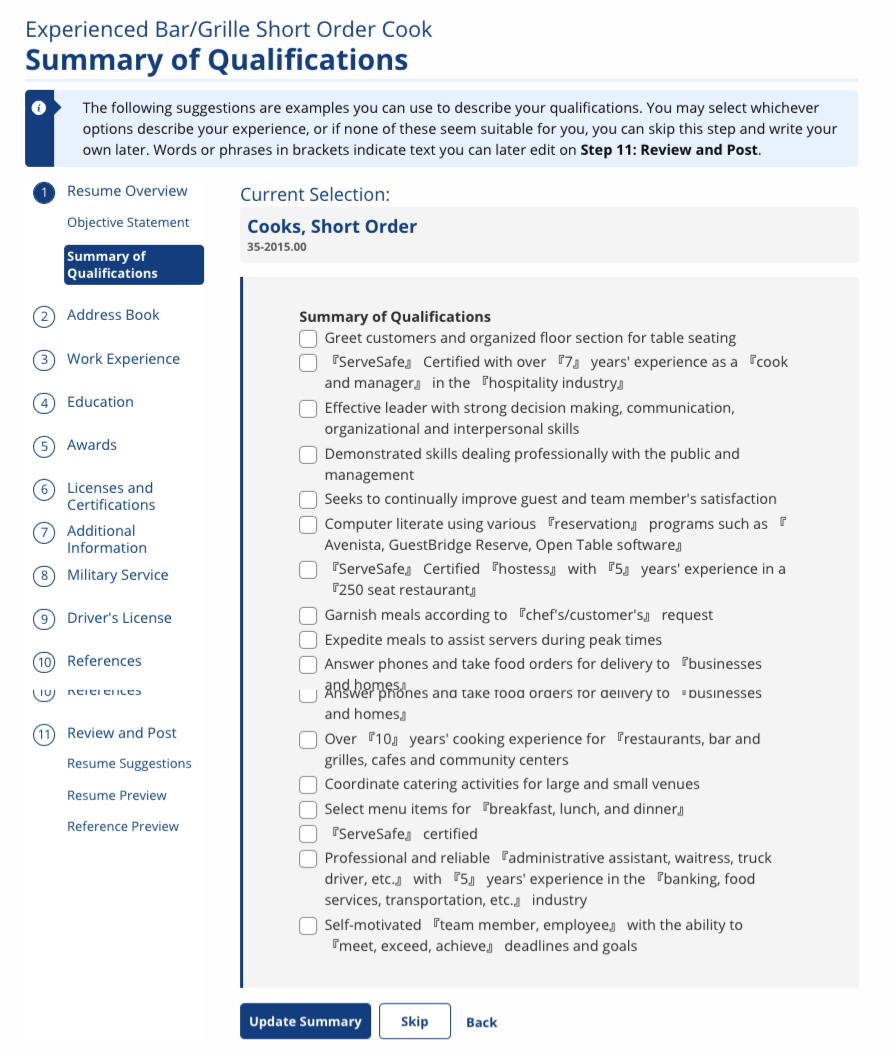 To read information on the next resume wizard step, select Address Book. To return to the overview of steps, select Creating a Resume.